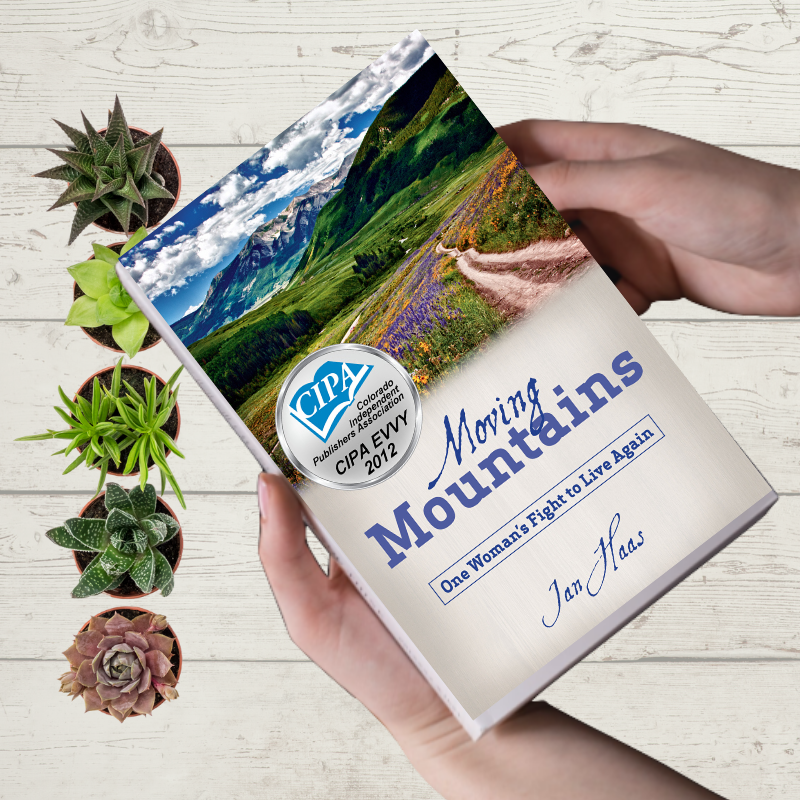 Summary:
After the birth of her third daughter, Jan Haas finds herself back in the hospital fighting an invasive strep A infection. Thirty days and five abdominal surgeries later, she awakens in the ICU attached to a ventilator. Scared and confused, Jan must dig up the courage to learn to walk again, regain her health, and trust in the community around her. The droning rhythm of "two steps forward, one step back" is a constant as Jan moves through her illness. Through journals, prose and verse, Jan tells the story of moving the mountain of illness with the help of community prayers and love.
Moving Mountains is really a love story- between husband and wife and mothers and daughters.  It is the story about a family and the community of love that rallied with prayer and action.  It is a story about how God is always with us, and never leaves us to face our troubles alone.  It is the story of waking up to possibility and seeing God in all things, even those things that don't seem like blessings.
Praise for Moving Mountains
"This stunning memoir almost defies description. Jan opens her life and heart and takes us to the brink of pain and suffering, then emerges with her greatest teaching: gratitude. It's almost inconceivable, given her journey, that it would or could be her telling us how precious life is, but it is. Her prose is beautiful but it's her verse tat has the power to alter your heart."
Paula D'Arcy, author of Gift of the Red Bird and Waking Up to This Day
"Moving Mountains isn't just one woman's story of tragedy and triumph; it is a story of moving more deeply into one's humanity—of embracing both the pain and joy of the human experience."
Page Lambert, Connecting People with Nature.  Connecting Writers with Words.  Author of In Search of Kinship.
Q: "Who shall find a valiant woman?" (Proverbs 31:10)
A: The reader of this book.
The gripping story of Jan Haas' struggle to live reminds us that miracles weren't simply quaint medieval happenings. They still occur today.
Kathy Coffey, author of Hidden Women of the Gospels, The Art
of Faith and God in the Moment: Making Everyday a Prayer
"This soulful experience of Jan's year-long journey with illness will touch others as they live and discover meaning in their own life stories. This is a book about healing and walking through life with deep breaths."
J.A. Heinlein,  Publishing/Media Marketing Professional
"Jan's journey reminds us that the human body is capable of anything if we are patient and focused on the task at hand. She takes us up her mountain one step at a time. When you finish the book you will feel as though you have reached the top of the world right beside Jan."
Tonya Clement, Founder, Beyond Everest
"This riveting story of a mother fighting to live for her young family will inspire you to move through your life struggles. Her journey will have you crying, laughing, and wondering in awe about the power of community and prayer. Reading this book will leave you feeling hopeful and grateful. You'll want to pass it on."
Shelly Moorman, Parent Coach and Speaker